At Custom Wire technologies, Inc. we pride ourselves on quality.  Our precision grinding division is no different, especially when it comes to accuracy in measurement.  We provide a wide array of products and services to Medical OEMs around the world, adhering to their specifications to manufacture quality components.
We specialize in OD profile and centerless grinding, but we also provide additional services for products like guidewires, K-Wires, orthopedic pins, needle prototypes, ground hypotubes, mandrels, and additional medical related products.
Grinding Capabilities
Sizing and Specs
Minimum starting size: 0.006" OD
Maximum starting size: 0.188" OD
Most common centerless Sizes: 0.008" to 0.032" (0.20-0.80mm)
Most common OD/profile sizes: 0.008" to 0.125" (0.20-3.20mm)
Lengths of 10 feet and beyond
Various materials (see materials list below)
Diameter tolerances: ±0.0005″ regularly, down to ±0.0001″ depending on application
Length tolerances: ±0.020″ regularly, down to ±0.005″ depending on application
Machine control to 0.00001"
Centerless, OD, and profile grinding
CWT also offers a variety of wheel geometries and compositions, laser profilometer capability for measurement, and CNC wheel dress capability.  We can automate certain applications for lights out operation.
Stainless Steel
302
304, 304V, 304L
316, 316L, 316LVM
Inquire about others
Nickel Titanium (NiTi, Nitinol)
Superelastic
Shape memory
Titanium
Pure commercial grades 1-4
Ti-6Al-4V ELI
Other
Inquire about others
Centerless Grinding
With centerless grinding the typical types of ground wires include core wires, mandrels and guidewires. The centerless grind taper allows surgical wires to have optimal levels of stiffness and flexibility throughout the length of the medical device.  CWT grinds long tapers, short tapers and steps to suit your medical device needs. We can create tapers at any angle and hold very tight tolerances across the profile.
OD Grinding
This type of grinding is preferred for threads, points and specialized profiles in a wire. For example, flat wires for medical components are ground this way.  Other shapes include grooves, notches, steps, bumps, and flats.
Nitinol Grinding
Nitinol grinding is a manufacturing process that only a few medical companies can, or are willing, to do. This type of material is very abrasive which causes a large amount of heat during the grinding process, which then requires specialized wheels and coolant. CWT has experience with nitinol and can help provide the best solution for your nitinol designs.  We can manufacture core wires, mandrels, orthopedic wires, and many other parts from nitinol.  Additionally, we have the ability to take a ground part and shape set the material into a more complex shape.  Our vertical integration allows us to offer our customers a quick turnaround.
Core Wire Grinding
CWT's core wire grinding is unique in the ability to centerless grind long lengths of wires at very tight tolerances.
Custom Guidewire development, prototyping and assembly
Custom Grind Profiles, lengths & diameters
Paddles, Flattening & Stamping
Tapers of varying lengths and diameters for flexibility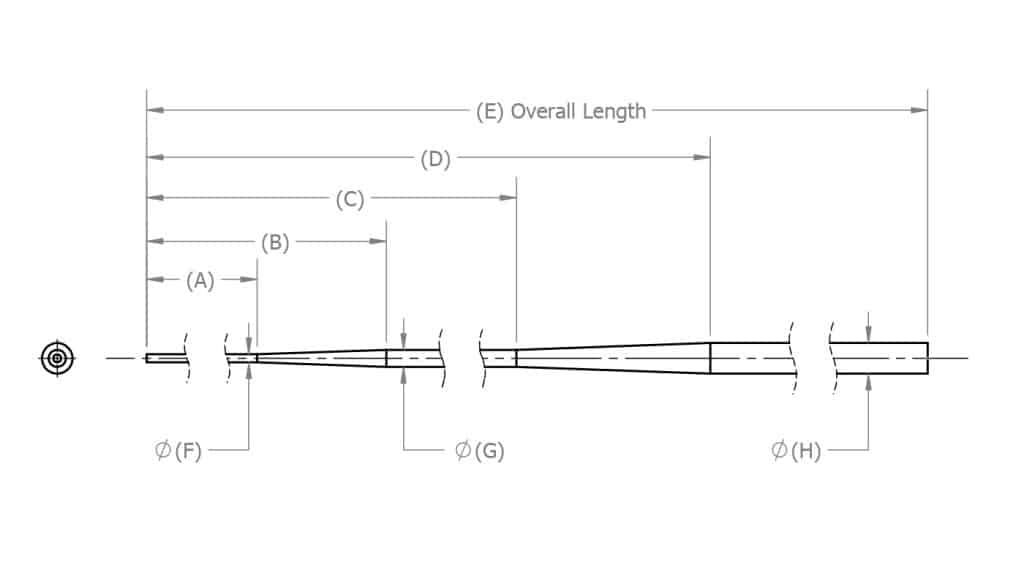 Mandrel Grinding
We can manufacture custom mandrels for many applications such as wire coiling and catheter manufacturing.  Mandrels can possess many different shapes from many different materials.  Shapes such as flats, steps, tapers, radii, and angles.  These shapes can be ground into the stainless steel or nitinol material, making grinding a very economical choice for mandrel manufacturing.  Tight tolerance capability and smooth surface finishes make grinding a logical choice.
Hypotube Grinding
Hypotube grinding capability does not differ over solid wire grinding.  CWT has the ability to grind hypotubes to very tight tolerances and very thin wall thicknesses.  These grind profiles can include steps, tapers, bevels, and lancet tips.  We excel at prototyping small lots to high volume production.
Orthopedic Wires
With the ability to grind various geometries, our ability to manufacture orthopedic wires is unique. From K-wires (kirschner wires), Steinmann pins, or fixation devices, CWT can help custom manufacture your medical component for you.  Need threads on your nitinol wire?  Need a ball in the middle of your wire?  Need a laser marked depth bands?  Contact us or learn more about how CWT can help.
Value-Added Services
CWT has in-house capability to provide additional services to OEMs that require specialized treatments and coatings for their components.  Additionally, CWT has partnered with industry-leading companies to provide further value to manufacture the wide array of products.
Laser Marking
Laser or Plasma Welding
Cleanroom Assembly
Ink Pad Printing
Passivation
Electropolish
PTFE Coating
Wire EDM Cutting